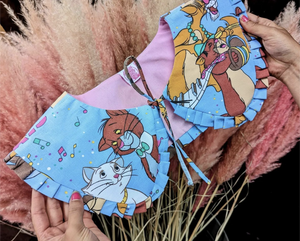 SILLYGIRLCLUB
Majorly cute kitsch faux collar
Regular price
$58.00
$0.00
This is a preorder for a collar which I'll be making to order for you today! Pattern placement will vary due to the nature of the fabric.
They're little add on faux collars for you to wear with any clothing. They sit a little higher than the neckline to give the appearance of a collar, all you need to do is tie a cute little bow and you can revamp any plain clothes in your wardrobe! 
Want to shop with a clear conscience for awesome clothing? We've got your back!
These collars are made from 100% deadstock fabric. We're not just sustainable, we're ethical too, really ethical - in our clothing is made in the middle of the UK, in our own studio so that we know everyone is being paid a fair wage. We currently have a small team of 3 girls who work alongside each other. 
All of our clothing is made from unwanted duvet covers or deadstock fabric. 
We reuse this fabric to give it a longer life and to stop it ending in landfill. We hope that in repurposing old duvet covers into something that you can use today, they will grow old with you. 
They will be shipped in 100% eco friendly packaging which can either be recycled or put in with your compost to biodegrade, depending on your preference. Just make sure to cut off the postage label before doing so! 
Shipping and returns policies.
We are based in England. While we make every effort to keep costs to a minimum, there is always a chance you will be charged customs fees if you are shopping from outside of the UK. We are not responsible for paying these, please bare this in mind when purchasing your item.
Please be aware, every item is one of a kind and therefore we do not accept returns unless an item is faulty. If you do return an item. Please be aware that you will be asked to cover the cost of shipping the item back to us and will not be refunded the cost of shipping paid. We are a very small business offering bespoke items and therefore do not have an obligation to refund bespoke products.