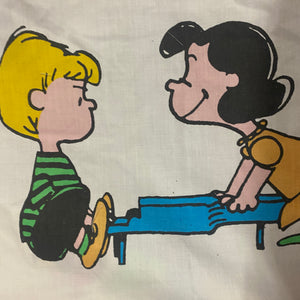 SILLYGIRLCLUB
Custom Reworked Heart Duvet Jumper In This Fabric
Regular price
$61.00
$0.00
This will ship in April 2023

I love that you're here looking at our sustainable treasure... Thanks!
These jumpers are made from Organic Cotton certified by the Global Organic Textile Standard (GOTS). Made on machines powered by wind power, they're climate neutral and are a proud member of the fair wear foundation, meaning the workers making them are paid a fair wage.
We take unwanted duvet covers and sew them into cool new things in our UK studio. I've been collecting unwanted duvet covers for 16 years now after finding them left behind at car boot sales to end up in landfill. They're way too cool for that! 
Did you know that most duvets are made from a mix of polyester and cotton? While cotton will naturally biodegrade within a few years, polyester can take hundreds of years to completely biodegrade. While polyester is degrading it sheds toxic microfibres, it is estimated that we ingest a credit card's worth of microplastic every week. Used textiles of pure cotton have value as they can be mechanically recycled, however as soon as you add more than 5%, it becomes destined for landfill.
Anyway, now the important stuff is out of the way, please find the jumper sizing below. These jumpers have a cropped, drop folder fit and are sized for a femme look.
Our clothing is one off and often you'll only see the item once and it won't be in stock again, sometimes, ever!
Shop Policies.
Please be aware that as everything is bespoke and made to order we don't generally offer refunds, however if you find your item to be faulty, please do drop us an email and we'll be sure to help. We are unable to refund the postage and you will be required to cover the cost of sending any item back to us.
Shipping outside of the UK
We are based in the UK and while we endeavour to keep shipping costs to a minimum, sometimes you may be charged import fees at customs. It is your responsibility for paying these fees. We send our international items with tracking and a signature is required to receive the item to ensure they get to you, if you aren't in when the package is delivered it will be held at your local office. It is your responsibility to organise a redelivery, if the item isn't collected from your local office within 10 days it will be returned to me and you will be required to pay postage again for it to be re-sent.